How Does A Smart Warehouse Solution Benefit Your Business?
Publish time:2023-06-09
An efficient warehousing system is key in helping businesses gain a competitive edge in today's rapidly changing marketplace. It can streamline operations, optimize inventory management, and ensures timely order fulfillment. The concept of a smart warehouse solution is gaining prominence in today's digital era. It integrates advanced technologies, such as robotics and automation, to enhance productivity, reduce costs, and improve overall efficiency. This article will explore how a smart warehouse solution benefits your business.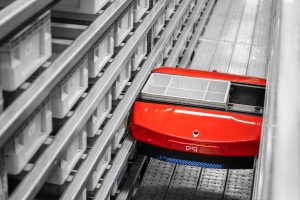 What Is A Smart Warehouse Solution?What Does It Consist of?
A smart warehouse solution is a technologically-driven, advanced system incorporating different state-of-the-art systems to optimize warehouse operations. One prime example of this is the HWArobotics smart warehouse system. It consists of several key components. Firstly, it uses an automated storage and retrieval system to use advanced algorithms and robotics to efficiently handle inventory management, storage, and retrieval tasks. In this way, it helps improve efficiency and accuracy and minimizes manual labor.
Another key component of the HWArobotics warehouse system is the Internet of Things (IoT) technology. It facilitates real-time tracking of warehouse equipment, goods, and vehicles. The solution also uses AI and machine learning algorithms to analyze data and generate predictive insights. Furthermore, intelligent order picking and packing systems are also included in this smart warehouse solution to automate this process and reduce delays and errors.
The Advantages of A Smart Warehouse System For Businesses
Building a smart logistics warehouse offers many advantages to businesses and streamlines their operations, providing a significant competitive edge. Some key advantages include the following:
Increased Efficiency
A smart warehouse solution improves efficiency by automating tasks such as order picking, packing, inventory management, etc. AI-powered and robotic systems help streamline operations, minimize manual labor requirements, and reduce errors.
Cost Savings
An intelligent warehouse leads to great cost savings by optimizing resource utilization. It helps prevent overstocking or stockouts and reduces lost sales and holding costs. Labor costs are also reduced thanks to automation.
Enhanced Security
Advanced security measures such as inventory tracking, access control systems, and real-time surveillance minimize the risk of unauthorized access, damage, or theft and enhance overall warehouse security.
Better Space Utilization
A smart warehouse technology uses robotics and automated systems to optimize space utilization. These technologies ensure the efficient organization of goods and enable high-density storage to maximize warehouse space.
Competitive Advantage
Companies that successfully implement smart warehouse solutions gain a significant competitive edge. JD.com, one of the leading e-commerce giants, has used smart warehouse solutions to enhance its supply chain operations. In particular, JD.com's fully-unmanned warehouse called "Asia No 1" in Shanghai showcases the power of advanced technologies in warehouse management. This innovative warehouse utilizes the smart warehouse solution provided by HWArobotics.
By leveraging AI-powered systems and robotics, JD.com has achieved remarkable results in faster order processing, efficient logistics, and improved inventory accuracy. Integrating smart warehouse technologies has enabled JD.com to significantly reduce costs, expedite delivery times, and ultimately enhance customer satisfaction. This example highlights the transformative impact that smart warehouse solutions, like the one provided by HWArobotics, can have on optimizing supply chain operations for businesses.
HWArobotics: A Reliable Warehouse Robotics Company
At HWArobotics, we have been a leading provider of smart warehouse solutions since our establishment in 2003. We deeply understand the distinct requirements and obstacles encountered by businesses, which has established our brand as a trusted name in the market.
We excel in utilizing cutting-edge technologies like the Internet of Things, AI, and robotics to create efficient and groundbreaking warehouse solutions. Our offerings encompass various solutions, including automated storage and retrieval systems, inventory management systems, intelligent order picking and packing systems, and more. These solutions are carefully designed to cater to the specific requirements of businesses across diverse sectors.
Among our impressive range of solutions, the SLS300 Series shuttle storage system stands out for businesses aiming to enhance their warehouse storage management. Its key advantages include facilitating high storage density, large order handling capacity, high device utilization, convenient scalability, and lower power consumption. With its smart capabilities, the SLS300 Series optimizes space utilization, allows for handling large order volumes, prioritizes energy efficiency and scalability, and increases the overall productivity of the warehouse.
You can learn more about SLS300 and other dependable, smart warehouse solutions by visiting HWArobotics's official website.